Cholinesterases
The cholinergic system is based on the neurotransmitter acetylcholine (Ach) and found widely distributed in both central and peripheral nervous systems. Cholinesterases are a family of enzymes that catalyze the hydrolysis of Ach into choline and acetic acid, an essential process allowing for the restoration of the cholinergic neuron. Cholinesterases are divided into two: acetylcholinesterase (AChE) and butyrylcholinesterase (BChE). AChE participates in cholinergic transmission by hydrolyzing acetylcholine and is expressed in nerve and blood cells. Compared to AChE, the physiological role of BChE is not well understood.
Butyrylcholinesterase
Butyrylcholinesterase from human plasma is a potential drug candidate that can be employed in several therapeutic fields. Enhancement of endogenous levels of hBChE can:
protect against the toxicity of
organophosphate pesticides and nerve agents
reduce risks of complications due to cocaine abuse
reverse muscle relaxant-induced apnea following surgery anesthesia
alleviate symptoms caused by local anesthetics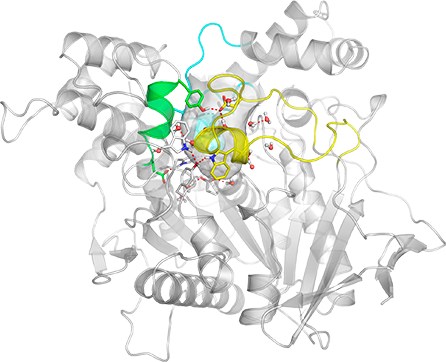 It can be used either prophylactically or as a treatment drug. While production of hBChE by genetic engineering methods provide reasonable quantities of the enzyme, the purification step still remains limited in terms of efficacy and time. Our new affinity gel, Hupresin® , has been proven to be superior to the classical methods for purification of both recombinant human BChE and plasma BChE because of its higher binding capacity and its higher specificity for hBuChE. A single purification step can yield larger quantities of highly pure BChE. This new chromatographic support will help to reduce the costs associated for the production of BChE-based drugs such as nerve agents bioscavengers.